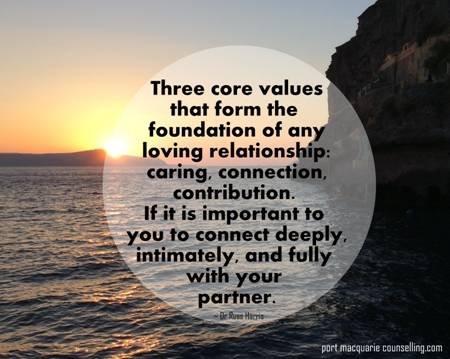 "Our lives revolve around relationships - with ourselves, others, and everything we encounter in the world around us. The more you act in line with your values, the better will be the quality of those relationships and therefore the more enjoyable and rewarding your life will be." ~ Dr Russ Harris"
Every relationship has the potential for growth and happiness, and deserves the chance to thrive.
Are you struggling with relationship challenges? Do you find it difficult to communicate effectively with your partner or overcome conflicts? I believe that every relationship deserves a chance to thrive. My relationship counselling services are designed to help you and your partner build a strong foundation, enhance communication, and rekindle the spark in your relationship.
My Approach
At Port Macquarie Counselling, I take a compassionate and evidence-based approach to relationship counselling. As an experienced therapist in The Gottman Method, I understand that each relationship is unique, and so I tailor our sessions to meet your specific needs. Whether you are dating, engaged, married, or experiencing challenges with family members, I am here to help.
Sessions
Couples Counselling: Our couples counselling sessions provide a safe and supportive environment for you and your partner to explore your feelings and thoughts. Together, we will identify patterns, address communication issues, and develop healthier ways to connect emotionally.
Pre-Marital Counselling: Thinking about tying the knot? This is the ideal time to gain the skills that you need to have to build a successful marriage. Before marriage is the time to think about some important questions, and give your marriage the best chance of succeeding.
Individual Counselling: Sometimes, personal issues can impact relationships. My individual counselling sessions are available for those who wish to explore their feelings, past experiences, and personal growth within the context of their relationships.



Get Started on Your Journey Today

Take the first step towards rebuilding and strengthening your relationship. Schedule a consultation with Kareen today. You can phone or text me on 0408 792 747. I offer online counselling sessions to accommodate your busy schedule.

Remember, every relationship has the potential for growth and happiness. At Port Macquarie Counselling, I am dedicated to helping you and your partner find the path to lasting love. Let's embark on this journey together.

---




Affair and Betrayal: If you are seeking help for your relationship after finding out about an affair - click here.

Emotional Affair:

If you are seeking help for your relationship after finding out about an affair - click here.

Relationship sessions are contra-indicated when:
There is an ongoing affair - disclosed or secret or, if there is domestic violence happening. Individuals can still attend by themselves please talk to me about this when booking a session.


Seven Ways to Improve your Relationship - Article By John Gottman - click here




---

Port Macquarie Counselling and Coaching - help along life's journey.
---
HOME
BLOG
CONTACT
FEES
RELATIONSHIP
SITE MENU

---
<!this is the table at the base of the page>